Shaft Mounted Gear Boxes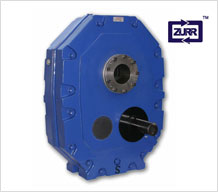 ZURR SHAFT MOUNTED Gear Reducers are Compact in size, Mounted directly onto the driven shaft thus eliminating the use of any foundation and couplings. Gears are of High Grade Alloy Steel and completely Helical and Case Hardened & Ground. These Gear Box are suitable for both forward and reverse motion.
These Gear Boxes are manufactured by is in different sizes with nominal reduction ratio - 5:1, 13:1 and 20:1. Customer can achieve a wide range of Output Speed through various pulley combinations.
Shaft Mounted Taper Clamp and Support Bushes are manufactured from Stainless Steel to permanently remove any chance of corrosion in the future. Various size of Bores are available in the taper clamps to facilitate easy mounting on different Shaft sizes.
Shaft Mounted Screw Conveyor units are available with tapered roller bearings on the output end to take withstand and absorb end thrusts.
These Gear Units meet the need to have a keyless application on the output end of the Gear Box. By usage of labyrinth sealing any chances of Dust ingestion in future can be totally avoided in these Gear Units.
Round Shaft Mounted Gear Boxes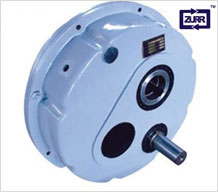 The Round Shaft Mounted Speed Reducer is developed as an alternative to the Shaft Mounted Gear Unit and are widely used for heavy & bulk material handling activities, they can work reliably even in rough & difficult environmental conditions.
Its salient features are :-
1) Compact in size & low cost.
2) Helical Hardened & Ground Gears
3) High efficiency - Upto 95% depending upon the reduction ratio.
4) Multiple Bore Sizes along with provision for Anti Roll Back Adapters to prevent reverse motion suitable for inclined conveyors.
These Gearbox are available in 3 Sizes - TD, TE & TF with Reduction ratio of 5:1, 13:1, 15:1 and 20:1, Torque ratings upto 1800 Nm