Sheet Metal or Stamping Parts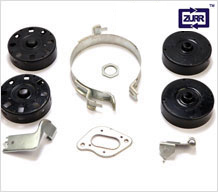 We manufacture various type of Sheet Metal Components and Stamping Parts as per the requirement of Customers, Our main product is Electric Cooler Motor Cover with blackodising.

Customised products upto a thickness of 6mm of any shape and size can be easily manufactured at our end. We also have Full In-house Tool Room facilities for manufacturing the required tools and dies for these stamping parts.