Worm Duty Gear Boxes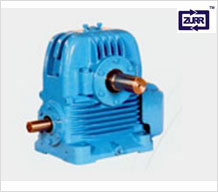 ZURR WORMER Gear Reducers are well known for its quality & reliability throughout the industries worldwide. Its Strength is in its modern engineering design helped by right selection of highest quality Raw Material and finally Precision machining in conformance to design.
Salient feature of these Worm Reducers are :-
» Compact Design
» High Efficiency
» High Thermal Capacity
» Rigid Structure and ability to resist shocks
» Long and durable trouble free life
» High Torque Capacity
» Centrifugally Cast Phosphor Bronze Rim secure to high graded Cast Iron Housing.
» Full Ground Worm Threads with superior surface finish
» By usage of Taper Roller Bearings of Reputed Make - SKF/FAG/NBC.
» High Quality Grained Cast Iron Housing - precisely machined on HMC Machine to ensure superior fitment & Oil tightness.
» Rugged Construction to withstand heavy loads.
» Worm Gears confirm to BS 721/1963 Standards with Class »A» Accuracy Level.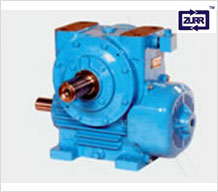 The Standard right hand worm integrated with shaft is manufactured from high quality alloy steel, All threads Case Hardened & Ground with excellent precision & finish.
Wheel tooth and Worm thread design carefully modified to enhance Gear performance, ensuring uniform transmission of angular velocity under all load conditions with improved lubrication to achieve higher operating efficiency.
Standard Output Shaft made of Carbon Steel to withstand bending load induced by over hung drives. High tensile Steel Shaft & Double extended shaft for specialized application can also be provided as a special case.
Lubrication of the Gears & bearings is carried out automatically by the Oil accumulated in the sump. All units are fitted with Filler, Oil Level Indicator and Breather for easy maintenance & routine inspection.
Tolerance on Input & Output Shaft Extension Dia. conforming to DIN 7160 Standard & Key, Key way conforming to DIN 6885 Standard.
SINGLE REDUCTION WORM SPEED REDUCERS
We Supplied these Worm Reducers in 3 types :-
A) SUM Model
B) SOM Model
C) SVM Model
Size Range - 2 Inch to 24 Inches
Standard Sizes - 2, 3, 4, 5, 6, 7, 8, 9, 10, 12, 14, 17, 20 & 24 Inches.
Gear Reduction Ratio - 5:1 to 70:1
Standard Reduction Ratio - 5:1, 7.5:1, 10:1, 15:1, 20:1, 25:1, 30:1, 40:1, 50:1, 60:1 & 70:1
Efficiency - 59% to 97.5% (Depending upon the Reduction Ratio)
Input Speed - 500, 750, 1000, 1440 & 1500 RPM.
oxes are specially designed for Crane Duty Applications in accordance with IS:3177 Standards. These Gear Units are specially designed for Heavy Duty applications in industrial works in accordance with IS:4137-67 Standard and all these Gear units are in accordance with IS:3177-65 standard and their ratings are in accordance with IS:4460-67.